Why CCSSE?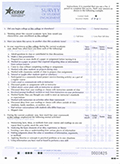 The Community College Survey of Student Engagement (CCSSE), a product and service of the Center for Community College Student Engagement, is a well-established tool that helps institutions focus on good educational practice and identify areas in which they can improve their programs and services for students.
Administered during the spring to mostly returning students, CCSSE asks about institutional practices and student behaviors that are highly correlated with student learning and retention. CCSSE serves as a complementary piece to the Survey of Entering Student Engagement (SENSE), with a more broad focus on the student experience.
Quick Links
Would you like to learn more about CCSSE? Here are some links to get you started:
For more information about the Center and its projects, select one of the tabs in the upper-left corner of the website.
Registration for the 2014 Administration of CCSSE is Open Through Oct. 31, 2013
Each year, hundreds of colleges administer the Community College Survey of Student Engagement (CCSSE), an assessment tool unlike any other. Institutional data from the survey have informed numerous program redesigns and have served as evidence in accreditation documentation. All community and technical colleges are invited to register for the 2014 CCSSE administration.
Read more about CCSSE 2014...
During CCSSE 2014 registration, colleges have the option of simultaneously electing to participate in the 2014 administration of the Survey of Entering Student Engagement (SENSE). The Center offers a 20% discount off both surveys if they are administered in either the same calendar year or academic year.
Close
Space is Filling Up Quickly for the Center's First-Ever Regional Student Engagement Workshop
Colleges in the Midwest are invited to participate in the upcoming Strengthening Student Engagement Workshop on June 17, 2013, in Overland Park, Kansas. This FREE event, held in conjunction with the National Benchmarking Conference at Johnson County Community College, features a plenary luncheon as well as a variety of breakout sessions.
Read more about the workshop...
The Center previously hosted an annual workshop in Austin and is now periodically taking the show on the road for member colleges' convenience. Please join us in kick-starting this new endeavor!
Registration is required for attendance and closes Wednesday, June 12, 2013. Space is limited. Participants may attend the workshop without registering for the National Benchmarking Conference.
Close
The Center Releases Expanded Tools
Center staff have recently updated and expanded tools for member colleges. The Tools page contains multiple resources for colleges to use while preparing for a CCSSE administration, communicating about survey results, and working with those results to improve student engagement.
Among the tools on the Preparing for Administration page is a talking point document to share with faculty and staff and a sample participant news release to communicate information about an upcoming administration with the college community at large.
The Working with Results page contains tools for colleges to use as they begin to explore their CCSSE data, including a data narrative exercise. This tool can be used in a group setting to develop a data-driven story that takes shape as data are shared and discussed.
Read more about tools...
The Sharing Results page houses several key communication templates, including a Drop-In Overview Report template and a Drop-In Overview Presentation template, both customizable for colleges to use when sharing CCSSE results.
The Accreditation Guides suggest ways for institutions to incorporate CCSSE into regional accreditation and include suggested timelines for administering CCSSE as part of the accreditation process and a map that links CCSSE data to regional standards.
The Focus Group Toolkit contains materials for organizing focus groups as well as sample focus group discussion guides for entering students, returning students, faculty, and student services staff.
Close