Why CCSSE?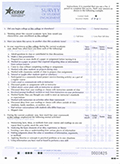 The Community College Survey of Student Engagement (CCSSE), a product and service of the Center for Community College Student Engagement, is a well-established tool that helps institutions focus on good educational practice and identify areas in which they can improve their programs and services for students.
Administered during the spring to mostly returning students, CCSSE asks about institutional practices and student behaviors that are highly correlated with student learning and retention. CCSSE serves as a complementary piece to the Survey of Entering Student Engagement (SENSE), with a more broad focus on the student experience.
Data Use Policy
In accessing the Center database and using Center data search tools, the user agrees not to use results for the purpose of ranking community and technical colleges. View the full data use policy.
Quick Links
Would you like to learn more about CCSSE? Here are some links to get you started:
For more information about the Center and its projects, select one of the tabs in the upper-left corner of the website.
Registration Now Open for Fall 2016 Entering Student Survey
Registration for the 2016 Survey of Entering Student Engagement (SENSE) is currently underway. The Center invites community and technical colleges to participate and gain valuable insight into the entering student experience.
Data from SENSE provide a view into students' crucial first steps on their path to success in the college. If you would like more information about this survey or how it ties in with the Center's other work, please contact info@cccse.org.
The Center Responds to the WalletHub.com Article Ranking Community Colleges
In response to the recent publication of a WalletHub.com article by Richie Bernardo and the website's purported rankings of U.S. community colleges, the Center for Community College Student Engagement once again confirms two longstanding policies: commitment to public reporting of survey results and opposition to the use of those results in ranking colleges.
Read More...
The article includes multiple errors of fact and misuses of survey data. It incorrectly labels and describes the category including Community College Survey of Student Engagement (CCSSE) benchmark data as "Classroom Experience." In reality, CCSSE benchmarks measure student behaviors both inside and outside the classroom, as well as institutional practice. A larger issue is that the reporter uses CCSSE benchmark data from different years as if the data were equivalent and directly comparable. This is simply not mathematically or statistically correct, as each year of reported data is standardized based upon the most recent three-year cohort of participating colleges. And finally, while it is true that the vast majority of U.S. community colleges are participants in the Center's surveys, the Wallethub ranking leaves out more than a third of the community colleges in the country due to missing data. To single out for condemnation colleges that invest in assessing the quality of students' educational experiences and agree to have those data publicly reported is surely to aim criticism in the wrong direction. At no time did the reporter contact the Center for Community College Student Engagement, a simple act that would have made clear the problems regarding CCSSE data in his article.
WalletHub.com's rankings in large part were created through misuse of data drawn from the CCSSE website that were combined with other data likely from different timeframes. The ranking method thus is based on an illogical calculation combining CCSSE results and other data. There are so many things about this approach that are statistically inappropriate that it is impossible to overstate how spurious the results really are.
The Community College Survey of Student Engagement was developed in 2001 to provide information about effective educational practice in community colleges and to assist institutions and others in using that information to promote improvements in student learning, persistence, and attainment. From the beginning, the Center has been committed to the public reporting of survey results, a practice for which the organization and community colleges participating in the surveys have been widely praised. Public reporting is a significant benefit to the colleges because it supports benchmarking of effective educational practice; in addition, by their participation in CCSSE, hundreds of community colleges every year demonstrate their commitment both to transparency with regard to institutional performance and to accountability for improvement of educational quality.
The Center's website has long displayed this statement:
"CCSSE opposes using its data to rank colleges. Each community college's performance should be considered in terms of its mission, institutional focus, and student characteristics. Because of differences in these areas—and variations in college resources—comparing survey results between individual institutions serves little constructive purpose and likely will be misleading."
[CCCSE's Policy Statement on Responsible Uses of Survey Data is displayed at http://www.ccsse.org/datapopup.html]
The one general point on which the Center and WalletHub can agree is the critical importance of community colleges' work across the nation to serve a remarkably diverse student population at significantly higher levels of effectiveness. Unfortunately, it is difficult to see how its uses of data and the rankings contribute anything constructive to that work.
Contact: Evelyn Waiwaiole
Director, Center for Community College Student Engagement
E-mail: waiwaiole@cccse.org
Close
CCSSE Refresh Coming in 2017
The Center recently looked back on over ten years of CCSSE survey data and reported those findings in Engagement Rising. Informed by this analysis of CCSSE data, member college feedback, and cognitive interviews with community college students, we are pleased to announce the Center's newest survey-related project: the CCSSE Refresh. This process of survey review and revision began in 2014 and will culminate in the release of an updated CCSSE survey instrument for the spring 2017 administration.

Colleges familiar with the survey in its current form will see that on the surface very little has changed. The CCSSE Refresh was never intended as an overhaul of an already-successful instrument for data collection and benchmarking. Rather, the CCSSE Refresh consists of a series of small edits that will improve the quality of data available to colleges and make the survey more relevant in relation to changes in the community college field. All of the CCSSE Refresh revisions were made with member colleges in mind, as the continued success of CCSSE ultimately depends on the survey's continued relevance and usefulness to the institutions it serves.
Close
CCSSE 2015 Results Released
The Center is pleased to announce that the results from the 2015 administration of the Community College Survey of Student Engagement (CCSSE) are now available through the online reporting system. The online reporting system allows member colleges to view results through standard reports as well as through a custom report request platform.
Please contact the Center at info@cccse.org with any questions.