Why CCSSE?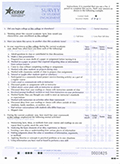 The Community College Survey of Student Engagement (CCSSE), a product and service of the Center for Community College Student Engagement, is a well-established tool that helps institutions focus on good educational practice and identify areas in which they can improve their programs and services for students.
Administered during the spring to mostly returning students, CCSSE asks about institutional practices and student behaviors that are highly correlated with student learning and retention. CCSSE serves as a complementary piece to the Survey of Entering Student Engagement (SENSE), with a more broad focus on the student experience.
Data Use Policy
In accessing the Center database and using Center data search tools, the user agrees not to use results for the purpose of ranking community and technical colleges. View the full data use policy.
Quick Links
Would you like to learn more about CCSSE? Here are some links to get you started:
For more information about the Center and its projects, select one of the tabs in the upper-left corner of the website.
Registration Now Open for SENSE 2019
Registration for the 2019 Survey of Entering Student Engagement (SENSE) is currently underway. SENSE results can help colleges understand students' critical early experiences and improve institutional practices that affect student success in the first college year.
All SENSE 2019 participating colleges not administering two fee-based special-focus modules will receive a special-focus module on The Working Learner and a special-focus module on Early Self-Reported Outcomes free of charge. Colleges administering one fee-based module will receive The Working Learner module free of charge.
For more information, please contact info@cccse.org.
CCSSE 2018 Results Released
The Center is pleased to announce that the results from the 2018 administration of the Community College Survey of Student Engagement (CCSSE) are now available through the online reporting system. The online reporting system allows member colleges the ability to view results through standard reports as well as through a custom report request platform.
The Center hosted a webinar after 2017 results were released that provides an overview of changes to CCSSE data and reporting. To view the webinar, please visit https://meeting.austin.utexas.edu/pwteslmtncca/
Please contact the Center at surveyops@cccse.org with any questions.